Gene's Butterfly Pictures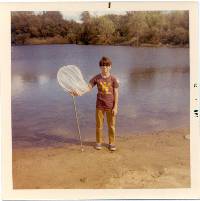 Back in those days, however, you didn't carry just your net. You also needed the dreaded "killing jar" so that you could later mount the butterfly for display. I got fairly good at that, but it was extremely hard to do without damaging the wings.
Today I wouldn't dream of using a net especially for the sole purpose of getting a "trophy" because now I'm armed with a digital camera! Besides doing no harm, I find that taking butterfly photographs far more satisfying than capture because you need to get in much closer than I would carrying a net. But I still have a mounting board because on occasion I will find a butterfly that has died of natural causes.

The Galleries

| | |
| --- | --- |
| | Galleries of pictures taken on single days at this wonderful location east of Phoenix near the town of Superior. |
| | Pictures of the butterfly pavilion at the Desert Botanical Garden in Phoenix, Arizona. The butterflies, the venue, and those that have enjoyed the butterflies. |
| | Not all of our insect friends are butterflies! |
So what do butterfly pictures have to do with variable stars and astronomy? I can't think of any relationship, but I now several who into both activities. Take a look at these wonderful
butterfly images
from Gary Poyner in England. And he's into wildflowers as well!
Photo Usage
If you are interested in using any of the photos on this website, click here for information.