First Marathon
A Journey of Serendipity

In retrospect, the first steps of my marathon odyssey started in January, over a year the run when I came across pictures of my Grand Canyon hike nearly 10 years prior and decided to put together a travelog to post on my website. As a mental exercise it was hard work to remember the various details so many years later. One part that was not hard to remember was all the training that went into the preparation. The reason: it entailed many trips to Squaw Peak Park building up endurance to become both physically and mentally prepared for a hike which I deemed many times to be nearly impossible. The closing paragraph of that travelog was prophetic:
"I wrote this story only recently (early in 2002) and I haven't been back to the canyon since that last hike, not even for a sightseeing tour at the rim. I haven't felt like I've been in good enough shape to do the kamikaze hike. But telling this story and going through the photos made me want to try it one more time. I started training at Squaw Peak for an appointment with canyon on May 5th."
Okay, I'm going to admit I'm not as young as I used to be. Looking back 10 years (I thought I was getting old then - athletically, that is!) My younger self found it nearly impossible to imagine getting into good enough shape for that first day hike into the Grand Canyon. At age 35, after nearly half a year of preparation on trails that closely resemble the canyons, my first climb out of the abyss turned ugly as I got totally drained and every step became a struggle. I wondered if this is what marathon runners call "the wall," the point around 20 miles when your body runs out of fuel. Later that year continuing the workouts at Squaw Peak, I got into my best shape for distance and the next canyon climb was a relative breeze. Could these 44 year old legs now take that punishment? Could I mentally do the challenge knowing exactly how bad it can be? I decided to go for it because the training went relatively well and the reward was tremendous: the beauty of the Grand Canyon down it's yellow brick road.
Even ten years earlier I noticed that age did offer one decided advantage. I can read my body much better and therefore it's much easier to pace myself, a prerequisite for any very long endurance endeavor. I was too much a sprinter when I was young which is a liability.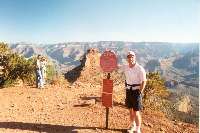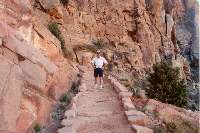 The canyon hike didn't go as well as I'd hoped as it was a struggle to move for nearly half the descent because the heat reached the mid-nineties, was far greater than predicted. Heat is an enemy of the distance runner and the canyon hiker. It drains you of vital fluids as your body tries to keep itself cool. But that hike was fun nonetheless. The very next day my legs were back to normal, almost as if nothing extraordinary happened the day before! I vowed to return to the canyon ASAP to give the other trail a try, a hike that might just be "the last of a lifetime." I might never be in this shape again or be able to spend the time required. That simply could not be my last day hike! Little did I realize when I made that promise to myself that circumstances would intervene (some might call it fate) and the result would be a try at a marathon.
I planned on returning to the Grand Canyon two weeks later, but the weather turned very hot making a hike potentially suicidal. I was bitterly disappointed the opportunity had passed so during the summer I did Squaw Peak here and there and actually started doing some serious running, setting my sights on the fall. I've never done well distance running because I find it too boring. After twenty minutes (and invariably running much faster than I should because of the boredom), I'm either tired and/or bored wishing the run was over. Compare and contrast this with training at Squaw Peak where 2-3 hours is genuine enjoyment. Sure I'll get tired in the end, but I'll still be having fun and that's an important key to getting extremely fit. As the summer wore on I set my sights to an autumn hike at the canyon. Around the 2nd to 3rd week in October summer normally ends abruptly and 100 degree plus highs go down to 70-80 degree highs. Ron was interested in joining me again and our schedules and weather coincided with the weekend of October 19-20. With the excitement of another canyon hike, it was now easy to increase my training which included a lot of road work because the travel time to the "exercise site" is less than a minute whereas Squaw Peak is a 90 minute round trip.
Our canyon plans changed instantly with a phone call from J.D. Wang inviting me to run in the upcoming Providian Relay, a 199-mile race divided in 36 legs run by 12 team members each running 3 legs. J.D. remembered me talking about my canyon dashes (ten years previous!) and thought of me for a couple of legs that had brutal hill climbing. He had 10 people already lined up which meant there was potentially a slot for Ron! Accepting Ron as the twelve team member, on the spot we switched our plans because the event was on the very weekend of our planned hike. I considered the Grand Canyon hike to be much more difficult than this, so I could hardly worry that I wouldn't be in good enough shape for the relay runs.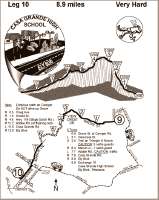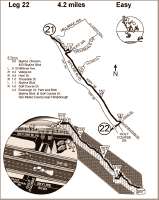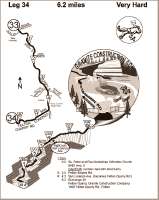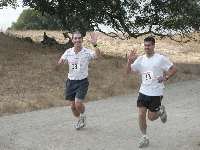 And yet I was more than a little worried. I was awarded the 3 legs that overall were rated the most difficult because 2 of the 3 had brutal hill climbs for a combined distance of over 19 miles. Awarded? I actually requested this position so the team knew they were dealing with someone with possibly less than a full deck. Ron, because of his marathon experience, was awarded the second most difficult position with a combined distance of over 20 miles, the longest distance of any runner. My big worry was my first leg - 9 miles rising about 1250 feet (the equivalent of Squaw Peak) over 3 miles and descending the same amount over 6 miles. The last time I'd run more than 9 miles was 22 years earlier!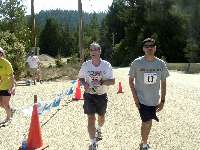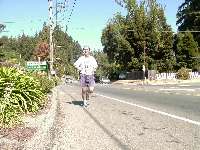 We'd rescheduled our canyon hike two weeks prior so my training became a combination of road work and Squaw Peak hikes. I began by trying to run every other day, but it was often every third. Often I would be going for 5 miles and quit after 4. The running was boring and even this short-term goal of the Providian Relay wasn't providing a lot of incentive. My thoughts were on the canyon. Slowly, however, I built myself up to 7 miles until a potentially disastrous accident at Squaw Peak nearly ended everything one week before the canyon. While going down at high speed, a tired hiker heading up cut me off and my knee hit a sharp rock protruding from a retaining wall. I tried to continue but quickly I had to stop because the pain was incredibly great and looking down I saw my entire lower leg covered in blood. The canyon was not to be and it was doubtful that I could even run in the upcoming Providian Relay. But after a week off (I wasn't happy to have lost the training), I started jogging and slowly over two weeks built myself back to the 7 mile mark. I was hardly 100%, but I felt fine and my runs during the Relay went generally okay.
Our only remaining weekend we were both available was the week following the Relay. But that was not to be, either. Very hard rain (in the middle of one of the driest years on record) made a canyon hike unthinkable in thick mud (it wouldn't have mattered if we did want to trek through the mud because they closed the trails), so I decided to run in a half marathon with Ron in nearby Scottsdale which would be my first organized run. Ron being primarily a runner actually was glad that he got to run in this event. I didn't care because the half marathon did not intrigue me in the least. Is it just me, or does doing half of anything not sound like an underachievement? "I went to Mt. Everest and I climbed half way to the top!" I absolutely knew I could finish that distance (13.1 miles) because I'd run over that distance at least 3 times in my lifetime. A full marathon on the other hand, did intrigue me. To complete a marathon had always been in the back of my mind. It would be an awesome personal accomplishment, but to me it was virtually unattainable. I didn't like running enough and the distance is ridiculous.
As the miles wore on in the half marathon it felt fine but as 9 miles turned into 10 and into 11, every mile seemed geometrically more difficult! There was considerable relief when I hit the 12 mile mark which meant just one mile to go. It was a very long mile. At the end you figure you can sprint to the finish line, but no such luck. I was too drained. My thought as I went over the finish line in 1 hour, 48 minutes was simple and discouraging: a marathon was simply out of the question! I'll never be prepared enough for that distance. Too bad. In early December there was a really convenient marathon down in Tucson which would be well suited to my abilities since the course descends 2000 feet. I was, however, satisfied to have completed the 13.1 miles in a decent time. Honestly, if someone would have told me a year earlier ...
My thoughts went back to the canyon. I wanted to go back and that was enough to keep me running. I built up distance and almost magically I was able to break through that 30 minute psychological barrier that had plagued my road work my entire life. I could now run easily up to an hour and not be thinking every minute, "I wish I was done." As I built myself up to 13 miles the thought of trying a marathon started creeping into my thoughts. Could I possibly give it a try? Was it possible to finish?
In mid-January it was time to plan for the Grand Canyon. That meant it was time to train at Squaw Peak. Though I hadn't been there since October, I was able to complete three full laps (up and down 3 times) without being in total exhaustion. There was little doubt that the road work over the winter had paid big dividends. Our date for the canyon was set for February 16th which was not that far off. Several weekends building up my legs and I went to equal my most ambitious workout ever at Squaw Peak, three full trips up and then on number four turning off and running the complete circumference trail - a total distance of 13.5 miles and 5200 vertical feet. I was feeling supremely confident that the last couple of miles on the trail at the Grand Canyon would not be an ordeal!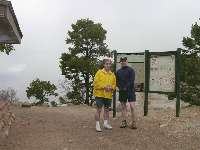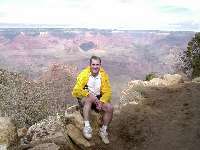 As can see from the photo on the left the weather turned out badly, but the hike went very well and was far from a disappointment as you can see from the picture at the right. There was disappointment, however, that I could not take decent pictures so walking away from the trail I was already planning on a return trip very soon. I could do this easily if I'd only keep myself in shape. So the incentative to keep running was still very powerful.
In early March there was a convenient marathon, The Valley of the Sun Marathon, held in nearby Mesa, about a 45 minute drive. Could I dare think I could try this? Dozens of times the thought would enter my mind and every time the answer was no. It didn't bother me too much before because I still had a canyon hike to look forward to and keep my mind occupied. That climb went extremely well and I had to credit all the road work. I decided to try 14 miles the week following and that went fairly well, but I was quickly tiring at the end. Very discouraging if I was going to try the upcoming marathon. In mid week, however, I would try a fast run of slightly less than a 10k. I went out faster than I thought possible and managed a 7:30 per mile pace which was 45 seconds faster than my pace for Providian Relay. I decided right there and then (with only 10 days until the event) that I would forever regret passing up this opportunity to possibly complete a full marathon. In final preparation, I did 14.1 miles the week before (the third longest run of my life) and 9.5 miles two days after that. On Wednesday I did 5.7 miles and said to myself you're as ready as you're going to be. It's now or never, even though I wished I now had more time to be better prepared.
Back to the Marathon Story