Page 3
Supai Tunnel Mile: 2.0 / 22.1 Elevation: 6,840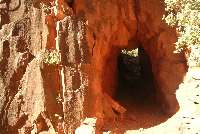 Almost immediately we arrived at the area of the Supai Tunnel, a substantial clearing populated by many hikers. There was a water spigot and hitching posts for the mules. Ron went dashing off immediately while I stayed around to take just a couple of pictures. We had not planned on a water stop because our journey had barely begun with still 22 miles left to go. Just beyond was the tunnel itself, a 4 foot wide, 7 foot high, and 12 foot long opening that had obviously been blasted out of the limestone. I think a rider on a mule would have a tough time going through, but this was beyond their stopping point.
Finally we were treated to some decent views of the canyon as we had descended at least 1500 feet and now the trees were getting rare. Up ahead I could hardly see any trees at all as we seemed to be on solid limestone. But larger canyon views were still not available. We were still in Roaring Springs Canyon, a small side canyon and I knew that above on our right must be the North Canyon Lodge. Further we would hit the Bright Angel Canyon and the trail would follow the creek all the way to Phantom Ranch at the bottom.
The downside of passing fellow hikers quickly is there is barely enough time to simply say hello. We often get to hear comments like, "You guys are going fast!" but there's not enough time to exchange even brief information like where are you ultimately going, how long do you expect to be there, and when are climbing out. With more time I'd ask if this is their first time, which trails have you done, which ones are your favorites. One couple said as we passed, "It still looks like you're having fun!" I caught their meaning immediately. It was a statement that it may be fun in the beginning, but by the time you get to the end you'll often wonder why you thought this would be a good idea. I barely had enough time to reply with a mock argument with Ron (who couldn't hear any of this) as if we going up and now very tired and blaming each other for getting ourselves into this mess, "No, it wasn't my idea, it was your idea!" I then added from the lower switchback yelling back, "Yeah, I know. This is my sixth hike doing it this way." Yes, I knew well what we might be in for.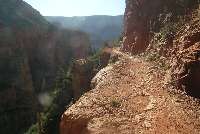 This was truly a fantastic section of trail that hugged the canyon wall (I could clearly see it earlier) and was therefore very exposed. Looking at the picture at the left makes this look very dangerous and logically it can be, but it didn't feel that way as we were jogging (that's right we were even jogging at this location) and there was never any concern that I can remember other than a little concern about the heat. The temperature was very comfortable and I wished it was freezing cold.
But the good side of exposed is the spectacular view it affords. Also, with no mules, there were no land mines to avoid! As the pictures that follow show very clearly, this is a well maintained section of the trail. Ron stated on various occasions how much he disliked the rocks.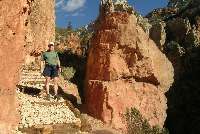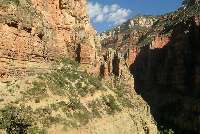 Though I had my stop watch going, Ron was carrying more sophisticated monitoring gear that was measuring altitude, how far we'd gone, and our pace. Though we'd started off well, ever since waiting for the mules we were behind our expected pace. Going in I thought that 10 minutes per mile wasn't unreasonable, but our tempo was at 15 minutes overall. Every mile he would announce our pace and we were going faster, but we never quite hit 10 minutes. Oh, well, I thought. The hike is going to take longer. Maybe even an hour longer? "I hope this doesn't worry Cindy," I thought.
But there was no real worry, other than keeping up with Ron. My frequent photo stops kept me behind and I'd have to rush to catch up when I could. Other times I had to stop too long if I wanted more than one picture at a given spot. Then I'd have to wait an eternity for the camera to write the image to the compactflash card before taking the next picture. After a few of these stops Ron would have to halt completely in order for me to catch up. Another annoying camera problem was I kept rubbing the mode selector wheel with my thumb causing it to move many positions. This caused further delays as I'd have to reset the camera before I could take the next picture.
Roaring Springs Mile: 4.7 / 19.4 Elevation: 5,100
Then as we were nearing Roaring Springs I noticed the battery indicator was rather low. Fortunately, I had made the decision to carry 2 spare batteries. I rationalized in my mind if nothing else I'd have enough battery power for the trip down if this first one last at least 5 miles. As we approached Roaring Springs, now my camera appeared to be dead! Oh, well, the batteries aren't lasting very long so I had Ron stop as I swapped for a fresh one.
As we approached I still couldn't see it, but from the loud sound I knew it was aptly called Roaring. But springs? This sounded like a huge waterfall. Finally, we had arrived and it wasn't at all what I had pictured. Roaring Springs is indeed a spring. The water pours out of the side of the mountain and flows into Bright Angel Creek, which at this point is usually dry. At this spot there are two buildings and conspicuous power cables leading up to the rim. This is a pumping station and this water source supplies the entire South Rim. The water is pumped to the bottom of the canyon and then up to the rim, following the Bright Angel Trail. The other building is the caretakers home.
Trying to take my first picture of the falls, the screen was again completely blank. I was momentarily depressed about this thinking my camera had completed died, but then I noticed that the wheel had again been bumped, this time to the movie mode! Rotating it back everything became normal and I breathed a sigh of relief. Hitting this wheel by accident would be a problem the entire hike. But at least I knew the camera worked and the first battery wasn't completely dead so I would not have to worry about how many pictures I could take.
Our route down the North Kaibab Trail from Roaring Springs through Cottonwood Campground to Ribbon Falls.

The wider contours show a much more gradual descent on this section of trail..
Cottonwood Campground Mile: 6.9 / 17.2 Elevation: 4,000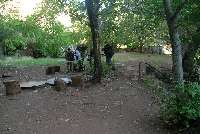 Our next landmark seemed to come quickly, even though it was two miles down the trail, a sign that we were now making good time. As we were now hugging the east side of the Bright Angel Canyon, we were mostly in the shade and the coolness felt great so I took my hat off to keep my head cooler. We were at Cottonwood Campground and for me it was a scheduled stop as water was available here and I was counting on topping off my bottle. The campground is just a nice clearing within a small grove of cottonwood trees and looked too small to hold many campers. There was an Asian party stopped there in full overnight-type hiking gear standing by the water spigot making it nearly impossible to spot. A gentlemen standing there who clearly was out of place saw my puzzlement and asked me, "What are you looking for?" When I said the water it was almost embarrassing as he pointed to the spigot not three feet to my left. As the saying goes, if it was a snake ... I had my hat in my hand and filling the water bottle was a two hand operation. I was carrying it because any moment I felt I might have to put it back on so I didn't clip it to my belt. Instead of putting it on my head (the logical and smart thing to do) I laid it next to the water as I began to fill. I asked where everyone was from and the Asian group said Japan in very good English. They had just spent the night and were about to hike out. I then asked the gentlemen who was out of place since he looked American, was only wearing shorts, and no hiking gear whatsoever, "Where are you going?" "No where," was his reply. "I live here. I'm the caretaker!" I smiled as I had now met the infamous caretaker of the Roaring Springs Pumping Station, Bruce Aiken..
I was cut off immediately by Ron's voice saying we had to get going. I would have been happy to stay just a couple of minutes to chat. He only had time to ask me how far we were going and I answered as I was heading back to the trail, "All the way to the South Rim." I believe he said, "Good luck on that!"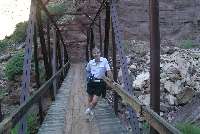 Ron should have filled his water container, the so-called Camelback which is strapped to your back and you drink through a tube that wraps around your neck. He assumed his supply would last to Phantom Ranch which was still some 7 miles away. At this stage of the trail, we were in shade so heat was not a factor. It was at least a mile later, even after Ron had taken a picture of me, that I remember my hat was not on my head. Did I have it clipped to my belt? No. Did I put in my fanny pack? No, there wouldn't have been enough room. Then I remembered putting it down at Cottonwood Campground!
For the next several miles this gnawed at me and doing so spoiled an appreciation of the new view which included a beautifully flowing creek!. How could I have done that? This could be a very bad mistake if it's as sunny and has hot as it looks like it's going to be. Right now we were still in the shade. Why did I allow Ron to rush me? Why didn't I just put it back on my head rather than setting it down? The trail was now completely different. We descended to where we now closely followed Bright Angel Creek and were therefore now in Bright Angel Canyon. From the maps this section went on for 7 miles. Wow! We'd already gone so far and we're still 7 miles from Phantom Ranch. I sure wish I hadn't forgotten that hat. The trail mostly stayed to the left bank, but from time to time we'd cross a short bridge taking us to the right and then another bridge taking us back, a routine that would repeat itself all the way to Phantom Ranch.
It turned out my missing hat was hardly going to bother me at all. It started slowly, and then it came to dominate every other thought. My right leg was starting to bother me along a tendon to the right of my knee, 2 inches above and below. At first it was simply a minor annoyance and I hoped against all hope that would be the worst of it. As it got worse with real pain I hoped maybe that would be the worst of it. How I wished we were already at Phantom Ranch, but I knew we were still miles and miles from there. At some point what was an annoyance was now literally slowing me down because it was too painful to go too quickly. I was starting to have difficulty keeping up with Ron. When are we going to get to Phantom Ranch?
Some of the trail hardly seemed to belong in the canyon at all. In some of the flatter sections it was like hiking through a marsh. At some points the trail virtually disappeared as foliage on either side almost completely enclosing the path.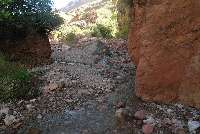 << 1 2 3 4 5 >>